The Project utilizes the flow of Poonch River, the full length of which within AJK was notified as a national park by the Government of AJK in 2010. This is only wet national park in the country. The SEA (Strategic Environmental Assessment) of rivers and tributaries of AJK classifies the Pooch River into the most critical category.  A total of 37 fish species are associated with the Poonch River. Of these six fish species are listed in IUCN Red List with their status as:
Kashmir Catfish (Glyptothorax kashmirensis) – Critically Endangered,
Golden Mahseer (Tor putitora) – Endangered,
Pabdah Catfish (Ompok pabda) – Near Threatened,
Butter Catfish (Ompok bimaculatus) – Near Threatened,
Common Carp (Cyprinus carpio) – Vulnerable,
Twin-banded Loach (Botia rostrata) – Vulnerable
The endemic fish species associated include Pakistani Baril (Barilius pakistanicus), Punjab Loach (Schistura punjabensis) and Nazir's Catfish (Glyptothorax naziri).
An initial environmental due diligence was carried out prior commencing an ESIA. The park notification was apparently dormant with no further actions by the respective departments therefore the above facts were revealed to MPL after submission of the original ESIA submitted to EPA and the Lenders for the approval.  The original ESIA in accordance with Environmental Protection Act 2009 was prepared by Sustainable Solutions Private Limited based on the original design in late 2013.
Further activity on the project was put hold due to new situation as emerged with the appearance of critically endangered and endangered within a legally notified area which immediately triggered the following requirements:
AJK Wildlife legislation requires 'betterment of the park' to approve actions and activities normally prohibited in a national park.
ADB and IFC as lenders require 'net environmental gain' in biodiversity in Critical Habitat, in this case triggered by national park, Endangered Mahaseer, and Critically Endangered Kashmir Catfish.
Lenders and regulators required following key requirements in order to proceed with the project proposal:
A critical Habitat assessment study of the entire river in order to establish the actual status of biodiversity and status ecological integrity of the river
A cumulative impact assessment of all projects planned on the river establish that if there is any room for considering the proposed project
An integrated ecological flow assessment of Gulpur Hydropower project assessing the upstream and downstream response of the project to establish any potential for achieving a net environmental gain and room for betterment of the park
A Biodiversity Action Plan demonstrating a net environmental gain and a net improvement in the national park
MPL floated a request for proposal to various international consultants and engaged an Hagler Baily Pakistan (JV) in consultation with lenders to carry out the above studies with immediately.  Hagler Bailly in joint venture of Southern Waters of South Africa and NESPAK of Pakistan was contacted to undertake the following specific deliverables:
Submission of Critical Habitat Analyses Report
Submission of Rapid Cumulative Impact Assessment Report
Submission of Draft Scoping Report for DRIF and BAP
Submission of Draft Biodiversity Impact Assessment Report
Submission of a Biodiversity Action Plan
MPL anticipated that the likelihood of achieving a net environmental gain with the original design having 6 kilometers of low flow/dry section with peaking scenarios will be difficult to achieve. Therefore working on changing design was explored immediately. All above studies were repeated on the new design without changing the original cost.  Layout of change in design is shown below: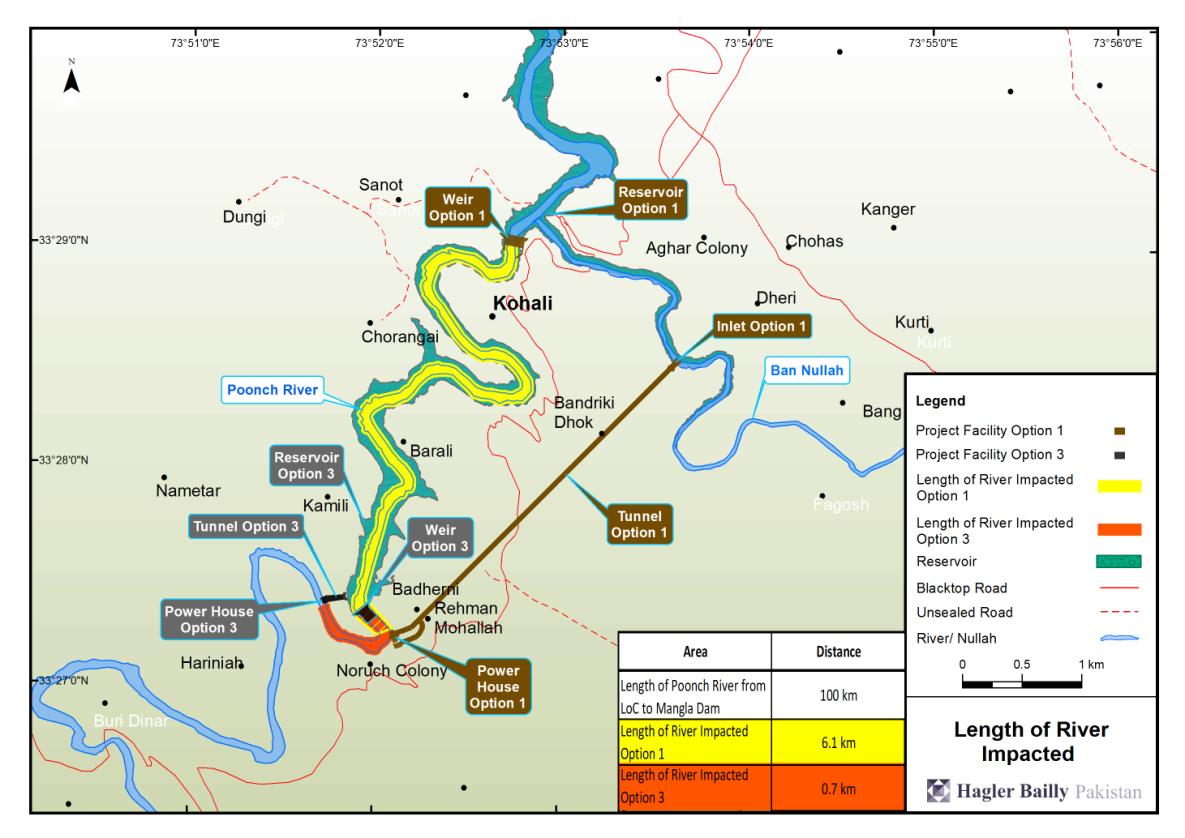 Following protection scenarios considered to address the non-flow related pressures:
Business as usual (BAU) = Historic protection level, limited number of guards and logistic support, and superficial supervision. Fish populations decline to 10% of present day in 50 years
Moderate Protection = Maintain 2013 protection levels assuming limited and sporadic NGO support; Fish populations remain at present day
Enhanced Protection = Reduce 2013 levels of pressures by 50%, fish populations increase by about 50% over 50 years
Following decision was granted by EPA and Wildlife Department upon on proposals:
A Biodiversity Action Plan will be prepared and implemented for achieving protection targets of Enhanced Protection Scenario at basin level protection.
All future projects will have to prove net gain in biodiversity in the national park.
The above decisions of the regulators were endorsed by lenders and advised MPL to update the ESIA and resubmit at EPA and Lenders for public disclosure and approvals from investment committees and Board of directors.  MPL again contracted Hagler Bailly to Update the ESIA accordingly and also to carryout climate change risk assessments desired by lenders.  Climate change risk assessment study was undertaken by Tetra Tech USA in collaboration with Hagler Bailly. Following additional services were acquired:
Ecological Flow Assessment- based on revised design option
Detailed Socioeconomic Surveys
ESIA Update and Integration
Climate Change Risk Assessment
All revised documents were submitted to EPA, FWD, and all lenders for their respective disclosure requirements and requirements of lenders approvals.  MPL has successfully arranged an unprecedented support from the major international NGOs including WWF, HWF and IUCN, regulators including EPA and FWD and other civil society and academic institutions.  This was unprecedented in the country where all such institutions collectively battled for the approval of a private sector project in front of lenders experts during various video conference meetings.  A conditional approval was granted by all lenders based on majority votes and following further studies were required before financial closing for which a third agreement with Hagler Bailly was signed as desired by lenders:
Feasibility Assessment for Achieving Net Gain
Biodiversity Monitoring and Evaluation Plan
Proposed Ecological Flow Management Plan
Mahaseer Hatchery Design and Restocking Program
Proposed Road Map for NPMP
The BAP and ESIA were further updated upon completion of above studies and required an Environmental and Social Management System (ESMS) to implement all the approved plans.