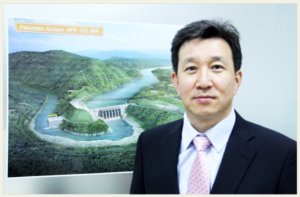 "It is my pleasure to welcome you on behalf of Mira Power Limited ("MPL"). We are the proud subsidiary of Korea South East Power Company Limited (KOEN) (www.kosep.co.kr). KOEN is a premier generating company of South Korea and owns 9,400 MW generating capacity which represents 10.7% of total capacity of South Korea. KOSEP is fully owned subsidiary of Korea Electric Power Corporation ("KEPCO") which owns 100% transmission/distribution business and 88.5% generation business of South Korea.
With the view to help Pakistan to overcome its energy crisis KOEN decided to invest in Pakistan and as a first step have acquired 102MW Gulpur Hydropower Project to develop and deliver it at a fast pace. For this purpose, a highly professional team has been moved from South Korea and we have hired very experienced and result-oriented team from Pakistan having first-hand experience of hydropower development. With the help of strong professional team and Sponsors commitment and resources,Gulpur Hydropower Project has achieved overall 35% construction progress by completing construction camps, two diversion tunnels and 35 meters high concrete Cofferdam.
we are now fully embarked on the development process of this Project with the target to complete the project by August 2019. Environmental and social aspects are our priority and we consider local community as our partners in the Project, therefore, we call MPL, "a human being's Company"!
We are getting tremendous support from Governmental Authorities especially PPIB, NTDC and AJ&K entities and expect the same in future. We have obtained initial interest of financing from ADB, K-EXIM, IFC, IDB and ECO Development Bank which we believe shall add enormous value to our Project.
Owing to this success, our parent company Korea South-East Power Co (KOEN)  and its sister organizations are seriously considering to bring further investment of USD 4.5 Billion in Pakistan Power Sector which will increase economic ties between the great nations of South Korea and Pakistan and support in elimination of load shedding from Pakistan on long term basis.
I am of the firm view that Pakistan, except some areas, is the best place for business. I am proud of all members of my team. With our joint efforts and dedication to the project, we are moving towards our goal jointly and surely.
I wish that Pakistan may be able to bridge its demand supply gap of energy with this initiative for investment in Pakistan by Korean people."
Min Byeong Soo
Chief Executive Officer
Mira Power Limited