RIAA LAW is the top ranked law firm of Pakistan especially for the structuring power sector deals and are Company's Legal Advisors for this Project.

MWH is the top engineering consultancy in the world in the hydropower design and implementation. MWH is the Owner's Engineer & Technical Advisor for the Project and will carry out the design review and construction monitoring.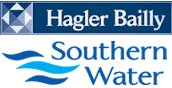 Hagler Bailly is the top environmental consultants of Pakistan and in collaboration with Southern Waters South Africa has carried out the environmental studies to satisfy the highest environmental compliance standards of the lenders.

Willis is a leading insurance broker worldwide and is Company's Insurance Broker.